STRATOMASTER
ULTRA INSTRUMENT PANELS
For your ultralight, experimental, homebuilt or sport aircraft!
The Stratomaster Ultra is the world's finest computerized instrument for light sport aircraft. There is nothing competitive in quality, functionality or price. The system combines all necessary flight and engine readouts in a graphical dial and graph format in an easy-to-read presentation. Because the system is software-based, it provides many user options for customization. The Stratomaster Ultra is easily adaptable to almost any engine.
Providing a multichannel EMS (Engine Monitoring System) as standard, the Ultra gives you the ability to closely monitor and to optimize engine performance. The EMS is highly configurable in true Stratomaster fashion and is therefore suitable for a wide range of engines, from small two-stokes to large four strokes. Connect just about anything you like, from Rotax to Hirth to VW to Jabiru to 2SI to Subaru, etc. You are covered!
Featured here is the rotorcraft version of the 4 Ultra models: the Ultra RL. This unit is especially for helicopters and gyroplanes, incorporating a rotor RPM tach in the display.
Ultra RL—for helicopters & gyroplanes: same as Ultra L (below), but with aligned rotor-Engine RPM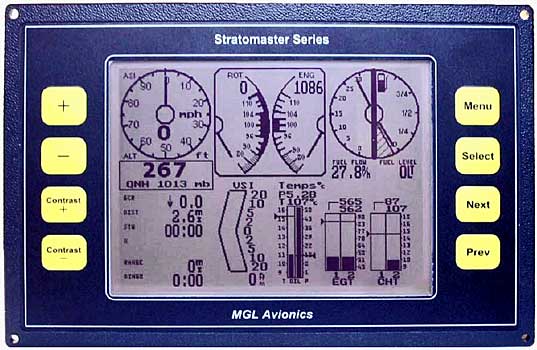 3 additional models of Ultra are available:

Ultra L:
Standard instrument with 4 channels total EGT/CHT (+ 2 extra NTC CHT)

Stratomaster ULTRA L Package (4 EGT/CHT): $1,295

Ultra X:
Same as above, but with 8 channels total EGT/CHT

Stratomaster ULTRA X Package (8 EGT/CHT): $1,295

Ultra HL and HX:
Ultra with attitude/heading information with either 4 or 8 channels EGT/CHT (L or X model). Attitude/heading information dependant on sensors purchased.

Stratomaster ULTRA HL Package (4 EGT/CHT): $1,295

Stratomaster ULTRA HX Package (8 EGT/CHT): $1,295
STRATOMASTER ULTRA: SUMMARY OF FUNCTIONS:


FLIGHT INFORMATION

ASI
Altitude (encoding - may require optional CNV-AT, depending on transponder)
VSI (digital and graphical)
Flight Duration
Glide Ratio
Climb Ratio
Attitude/heading options (Ultra H only)

ADDITIONAL FUNCTIONS

True Airspeed (TAS)
Density Altimeter
Takeoff Length Measurement
Air Distance Made Good
Automatic Flight Detection
Stop Watch
Maintenance Counter
Fuel Level Display
Fuel Flow Display
Time of Day
Flight Time
Flight Log
Preflight Checklist
Voltmeter
Barometer
Air Distance Range Remaining
Bingo Fuel Time
Instructor Mode
Ambient Temperature

ENGINE INFORMATION (May require additional senders)

Exhaust Gas Temperature (EGT)
Cylinder Head Temperature (CHT)
Water Temperature
Oil Temperature
Oil Pressure
Engine RPM
Engine Hours
Rotor RPM (Ultra RL only)

STRATOMASTER ULTRA: DETAIL OF FUNCTIONS:


SYSTEM REQUIREMENTS
The Stratomaster Ultra can be used with any engine that generates 1 - 100 pulses per 10 revolutions. This includes all Rotax, HKS, Hirth, Subaru, Jabiru, etc.
The Stratomaster Ultra should be connected to the clean 12V or 24/28V electrical system of your aircraft.
Additional senders are needed for engine functions required
SIZE
Face: 202mm x 135mm (7.95" x 5.3")
Screen: 121mm x 91mm (4.75" x 3.6")
Panel cut out: 196mm x 122mm (7.7" x 4.8")
Mounting depth: 95mm (incl. wiring) (3.75")
WEIGHT
Display: 700g (24.7 ounces)
Engine Capture Module: 275g (9.7 ounces)
STRATOMASTER ULTRA: WARRANTY
The Stratomaster Ultra's electronic components are guaranteed for 12 months from date of purchase against faulty workmanship/defects. Defective parts will be replaced/repaired at manufacturers discretion.

WHY SHOULD I BUY THE STRATOMASTER ULTRA?
The most comprehensive graphical light sport aircraft glass cockpit solution available

Takes care of most flying and engine information functions

Has graphical display of all main flight and engine functions

Can be fitted to just about any sport aircraft engine

Has many extra software features for pilots, instructors and aircraft testers

Aircraft quality and accuracy

Much lighter than traditional analog instruments

Fits most ultralight panels

Cheaper than the equivalent analog instruments

Easy installation (capture module, mounted near engine, sends signal to display so senders do not have to extend to panel)

Excellent resistance to vibration and harsh operating conditions

1-yr Guarantee against faulty workmanship/defects

Full installation manual with your instrument

Solid representation and reputation

AVAILABILITY:
While stock levels vary, nomally all items are in stock.
WHAT YOU GET:
Stratomaster Ultra instrument.
Stratomaster RDAC Engine Monitoring System (EMS)
Remote temperature sensor (for ambient temperature).
Ballast resistor for Ducati type ignition systems (rev counter).
Calibration certificate.
Manual.
Set of socket head mounting bolts and lock nuts.
Optional parts excluded in the basic price:
Fuel level sender. This can be obtained from your local auto parts store (resistive type).

Suitable alarm panel mount pilot light.

Suitable alarm buzzer. This can be used with the panel mount pilot light.
Senders for EMS are available from Vortech (see Price List, below):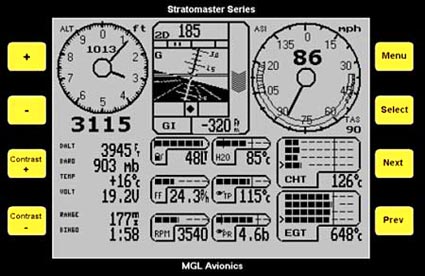 Stratomaster Ultra HX with attitude (horizon) and compass info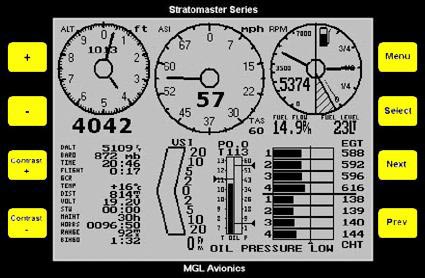 Stratomaster Ultra X with 8 channels EGT/CHT
ORDER ONLINE:

Price List
Stratomaster Ultra:
Stratomaster ULTRA L Package (4 EGT/CHT): $1,295
Stratomaster ULTRA X Package (8 EGT/CHT): $1,295
Stratomaster Ultra for Rotorcraft:
Stratomaster ULTRA RL Package (w Rotor RPM): $1,295
Stratomaster Ultra H with attitude (horizon) and heading:
Stratomaster ULTRA HL Package (4 EGT/CHT): $1,295
Stratomaster ULTRA HX Package (8 EGT/CHT): $1,295
Sensor Package for Ultra H
Optional Senders for engine functions (all Ultras):
EGT Probe + clamp kit, M8x1 thread, 316 stainless steel: $40
CHT Probes $26
Water Temp Sender, 1/8" NPT thread: $10
Precision Water/Oil Temp Sender, 1/8" NPT: $22
Fuel Flow Sensor: $145
GT-1 Geartooth sensor for Rotor RPM: $85
Optional Accessories:
Download Keyring Device with Airtalk/PC cable: $95
Please place order above
Related Item(s)
Code
Name
Image
Price
VIC504
ICOM IC-A4 VHF Band Transceiver
$230.00
VIS506
ICOM IC-A6 VHF Airband Transceiver
$345.00
VIC524
ICOM IC-A24 VHF Airband Transceiver (NAV + COM)
$445.00
VIC5210
IC-A210 VHF Air Band Transceiver
$1,250.00