This site best viewed at
a screen resolution of
800 x 600 or higher.


HRH Plans & Video

Sample from the HRH Plans

Please scroll down for more info on the HRH Plans & Video and for ordering info.


The HRH prints are clearly drawn & detailed. They are available
in a full-size 18" X 24" blueprint format, or a reduced 11" X 17" format.
NOTE: Although the pages in both the full-size and reduced-size
manuals are the same, the reduced-size drawings are not to scale
and so are not recommended for actual fabrication of an HRH.
IMPORTANT: The HRH plans do not detail the construction of the tail
rotor mechanism and final assembly of the main rotor head;
the creator of the plans intended for the builder to buy those
components complete and ready-to-mount from companies
such as RotorWay (now Rotor X), RotorWay-Rework, etc.

The HRH Video provides many close-ups of the helicopter's components with an overview by Bob Kinney, creator of the HRH, as well as extensive flight footage. Not to be missed!

PRICING
Special introductory prices:
HRH Construction Manual—full-size: $225
HRH Construction Manual—reduced-size: $125
HRH Color Video (40 minutes): $30
— Or SAVE on plans PLUS video—
HRH Video + Plans—full-size : $245
HRH Video + Plans—reduced-size : $145
— Please add postage to above prices per Order Form —
HOW TO ORDER:
With a credit card (Visa, MasterCard, American Express), you can SAFELY order 24 hours a day:

Or, you can MAIL a check, money order, or credit card number with expiration date and 3-digit security code to: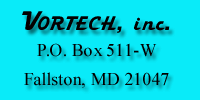 Questions? Email us at: vortechinc88@gmail.com


The HRH has won such prestigious awards as Sun 'n Fun's "Outstanding New Design" (2002) and EAA's East Coast Regional Fly in's "Best Rotorcraft" (2001)

Vortech offers a set of plans for building the HRH in 2 affordable formats: full-size and reduced-size.