For your experimental helicopter:
Rotorblades for RotorWay, Safari & other homebuilt helicopters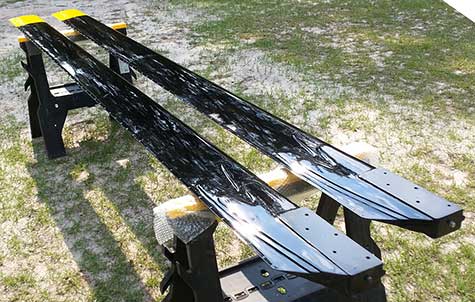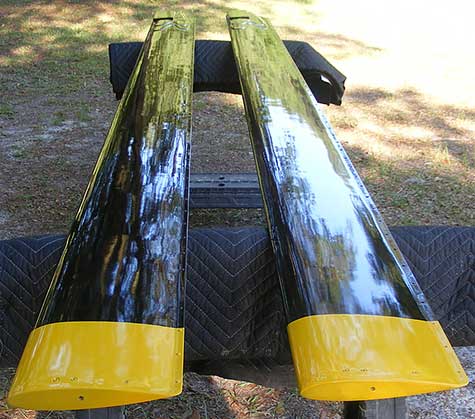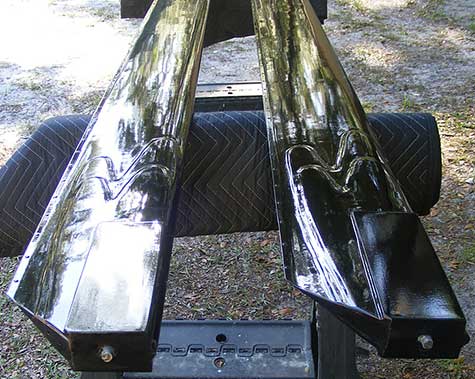 Above 3 photos: blades for RotorWays and other homebuilt helicopters
Below: root end of blades with doublers & mounting block (primed)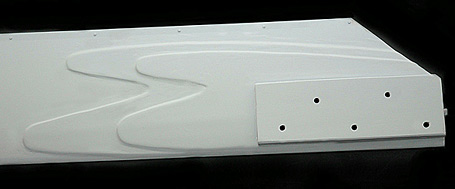 Above: root end of blades with doublers & mounting block (primed)
Below: full-length blade (primed, ready for painting)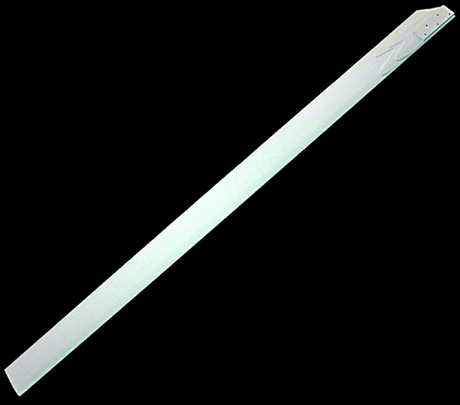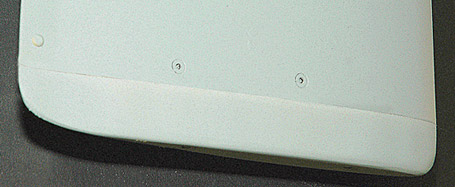 Above 2 pix: custom tip-caps (rounded tip caps are $150/set extra)
Below: blades packed in crate for shipment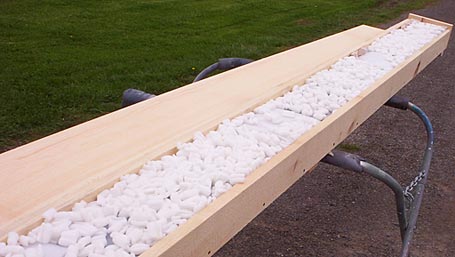 Below: blades in use on a RotorWay Exec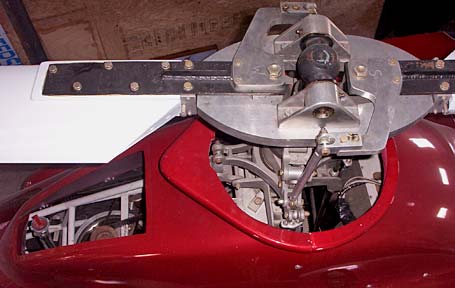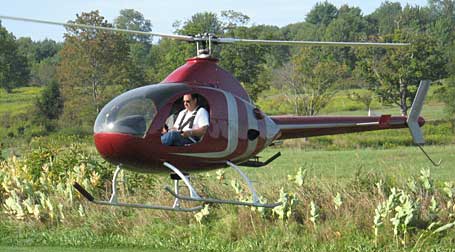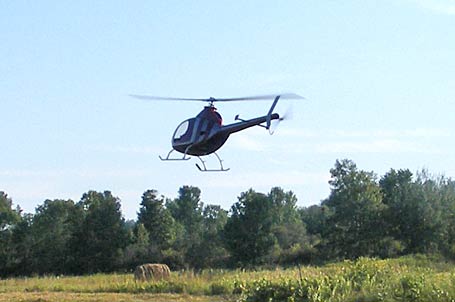 Below: a set of custom-painted Exec blades, ready to mount



BELOW: Exec tail blades (ready to mount)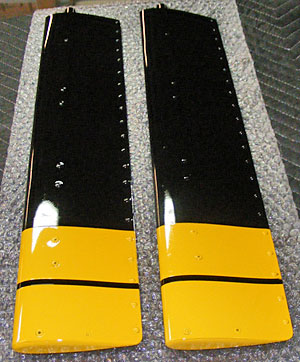 DESCRIPTION:
ROTORBLADES for your RotorWay Exec, Talon, Scorpion, Safari, Commuter or other homebuilt design. They are similar to the Exec blades. These quality blades are formed from 6061-T6 aircraft-grade aluminum (the extruded leading-edge spars) and 2024-T3 aircraft-grade aluminum (trailing-edge skins). The airfoil is a "high-lift" NACA23012, which is modified 0012. The aluminum skin is bonded with space-age structural adhesive and cherry rivets. Blade chord is 8" and weight is 2.9 lbs./foot. Photos show these blades in actual use on a RotorWay Exec.
Blades are available in 2 forms per set of 2 blades: finished and ready-to-mount:

Finished set includes tip caps, fiberglass doublers and blocks (already installed) cut to proper size for blade mounting plates. The blades are pre-balanced and primered, ready to be painted. The blades require drilling and final balancing after painting.

Ready-to-mount set is a complete, fully finished set that has been balanced, drilled and painted; they are ready to bolt to your hub's mounting plates (plates and mounting hardware not included). Length to suit your design at 8" chord.
NOW AVAILABLE: A full set of ready-to-mount tail rotorblades specifically for RotorWay Exec helicopters. Includes the tip caps. Mounting is standard for the Exec. Blades are balanced and painted.
Also available: hybrid composite-aluminum rotorblades...

PRICING (per sets of 2 blades):
$3,990 for finished set
$4,895 for ready-to-mount set
(Add $155 crating cost per set. Shipping: please inquire)
PRICE FOR EXEC TAIL BLADES (per full set of 2 blades):
$775 per set, painted and ready to mount (brand new)
(Add $45 packaging and shipping in the U.S. or $145 foreign)

Also available separately:
Rotorblade mounting plates: $495/set
Fiberglass doublers: $410 for a set of 8 for 2 rotorblades
Fiberglass doublers + wood blocks: $505
Wood blocks alone for 2 blades: $95
Custom painting: $395 per set of 2 rotorblades

ORDERING:
Please use our online Rotorblade Order Form

CONTACT:
Phone 410-668-2757 from 3pm-8pm EST weekdays, or leave message. To write us, please use the Form below.

| | |
| --- | --- |
| Name | |
| E-mail | (check for accuracy) |
| Phone | |
| Cell phone | |
| Fax | |
| Model | (identify item of interest) |
| Subject | |
| Your Message | |
Back to: Top | Hot Specials Home