The Homebuilt Helicopter Guidebook covers, with clear, illustrated explanations, how helicopters work, the various considerations that go into their design, main- and tailrotor aerodynamics, control-system operation, a glossary of terms, and much more!
Fully illustrated with photos and detailed specifications, the Guidebook presents various popular homebuilt designs. Also included is a section on mini jet helicopters and the engines that power them (ramjet and pulsejet), plus a list of sources of parts and materials to build the Aeros, or to build or restore most any other small helicopter. The list includes sources of engines, metals, AN hardware, cables, controls, rotorblades, instruments, etc. Your copy of this fascinating and highly informative Guidebook, presenting the world of small homebuilt and kit helicopters, is included at no extra cost with your order for the Aeros Construction Manual!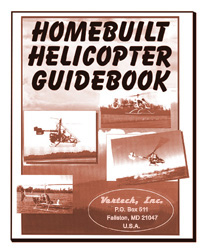 Along with the Homebuilt Helicopter Guidebook, your order for the Aeros Manual also includes a FREE copy of our full-color catalog, The Vortech Flyer. A wide variety of plans are offered in the Catalog for building helicopters (piston- and jet-powered) and gyroplanes, along with sources of parts, materials, rotor blades, books, and other items of interest to the hobbyist.