This site best viewed at
a screen resolution of
800 x 600 or higher.


Vortech proudly introduces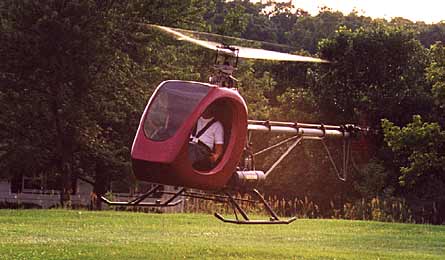 A World-Class Plans-Built Design

The award winning* Kinney Hot Rod Helicopter (HRH) is a true world-class, cross-country performer, with features that easily surpass those of virtually any other single-seat homebult helicopter. The outstanding features of the HRH include:
• ENGINE. While most single-seat homebuilt helicopters are powered by a relatively small (48 to 65 hp) 2-cylinder 2-cycle engine which, of course, limits their range and performance, the HRH uses a powerful 165 hp 4-cycle, 4 cylinder Subaru. This engine has proven its reliability in over hundreds of hours of flight, yet is lower in cost than many of the small 2-cycle engines! It employs a computer-controlled fuel-air mixture, redundant fuel pumps, and multi-port fuel injection. It uses regular gasoline.
Note: Although turbine engines are becoming popular, they offer far more dazzle than practicality, with a high initial cost, short life and high fuel consumption.
• ROTOR SYSTEM. The heavy-duty, sophisticated rotor head provides full cyclic and collective pitch, with an electronic system for maintaining rotor speed. The main blades are constructed of long-lasting composite materials.
• TAIL ROTOR. The tail rotor is shaft driven as opposed to the belt drive used in many homebuilts
• CABIN. The fully enclosed composite cabin offers easy entry and full comfort. It features a fully equipped panel with both digital and analog instrumentation; a vinyl-covered seat with comfortable energy-absorbing foam and a "crumple-zone" support; a 4-point aircraft seat belt; and a tinted polycarbonate windshield. Addition of doors and a catalytic heater provide year-round comfort.
• CONSTRUCTION. The powder-coated airframe is formed of aircraft-grade 4130 chro-moly steel, the primary structure both welded and bolted together with aircraft hardware for strength and durability. Most of the aluminum parts are black anodized. Overall, the superbly engineered components are organized for maximum structural integrity while allowing ease of inspection, service and mantenance.
• PERFORMANCE. The HRH combines good looks with outstanding maneuverability and cross-country performance. Simply stated, no other design in its class offers the HRH's combination of smooth, light-touch controls and state-of-the-art performance, whether for sport flying or a wide range of practical applications.
HRH Awards: Won "Outstanding New Design" in 2002 at the Sun 'n Fun fly-In; and "Best Rotorcraft" in 2001 at the EAA East Coast Regional Fly-In.

Summary of HRH Features:
• A true helicopter: vertical take-off & landing
• Forward, backward, sideward & hover flight
• Uses a powerful Subaru 4-cycle engine
• World-class, cross-country performance
• Built from widely available materials
• Standard helicopter-type control system
• Autorotates to a safe landing if engine fails

HRH

SPECIFICATIONS

Min. speed: 0 mph (hover)

Cruise speed: 80-90 mph

Empty weight: 1000 lbs

Useful load: 350 lbs

Gross weight: 1,350 lbs

Main rotor diameter: 25'

Main rotor chord: 8"

Tail rotor diameter: 46"

Length: 20'

Height: 7.25'

Width: 5.55' (175 cm)

Engine: Subaru EJ-25

Engine horsepower: 165

Fuel capacity: 18.5 gal.

Main rotor RPM: 520

Tail rotor RPM: 2,900

Flight time: 2 hours

Max altitude (est): 10,000 ft

Top speed: 103 mph

VNE: 115 mph

Blade: Waitman composite

Tail rotor chord: 4.5"

HIGE (est): 7,000 ft.

HOGE (est): 5,000 ft.



The HRH has won such prestigious awards as Sun 'n Fun's "Outstanding New Design" (2002) and EAA's East Coast Regional Fly in's "Best Rotorcraft" (2001)

Vortech offers a set of plans for building the HRH in 2 affordable formats: full-size and reduced-size.