For your helicopter project, a special sale:
Carbon-composite rotor blades for experimental helicopters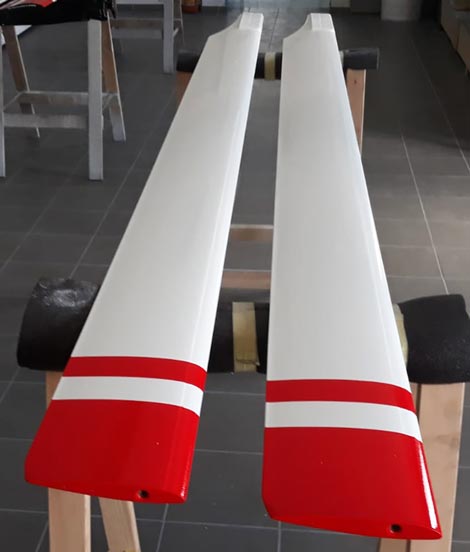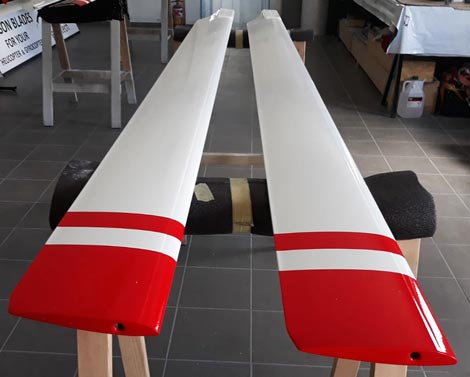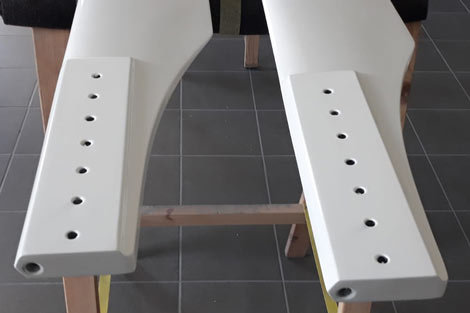 Above photos show sets of brand new, carbon-composite rotor blades for your helicopter. The rotor blades have a high-lift 23012 airfoil and a counter-clockwise rotation.




DESCRIPTION:
CARBON-COMPOSITE ROTOR BLADES for your helicopter project. These blades have a high-lift asymmetrical (23012) airfoil with a 5.5° geometric twist; they have a 7" (180mm) chord, a root thickness of 1.1" (28mm), and are each 9.2ft. (2.8m) long, but they can be shortened if required. Weight per blade is 18.4 lbs (8.4kg). They have a linear 7-hole mounting pattern. Rotation is counter-clockwise. They are formed of carbon composite, are brand new and specially priced as shown below. They come with a 5-year warranty against manufacturing defects. One set is painted white with red stripes at the tips (see photos); the other 2 sets are raw carbon and can be painted other colors. Shipping cost is extra.
NOTE: Only 4 sets (2 blades per set) are available at this special price. See our general line of main and tail helicopter rotor blades here

PRICE: Only $4,450 per set of 2 blades (usually $8,900/set—you save $4,450—a full 50%).

CONTACT:
Phone 410-668-2757 from 3pm-8pm EST weekdays, or leave message. To write us, please use the Form below.

| | |
| --- | --- |
| Name | |
| E-mail | (check for accuracy) |
| Phone | |
| Cell phone | |
| Fax | |
| Model | (identify item of interest) |
| Subject | |
| Your Message | |
Back to: Top | Hot Specials Home